Common Core State Standard
SL.CCS.1/2/3/4 Grades 6-12: An essay of a current news event is provided for discussion to encourage participation, but also inspire the use of evidence to support logical claims using the main ideas of the article. Students must analyze background information provided about a current event within the news, draw out the main ideas and key details, and review different opinions on the issue. Then, students should present their own claims using facts and analysis for support.
FOR THE WEEK OF NOV. 22, 2010
Royal romance: Prince William wedding plans touch emotions beyond Britain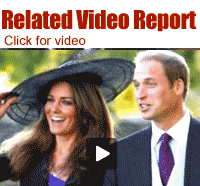 America has no royalty, though celebrities get royal-style media coverage at times. Find or recall an example.

If your family were planning a wedding, bridal shower, bachelor party or honeymoon trip, how could the newspaper help? Look for useful ads, articles or directory listings.
Find other, perhaps more significant, news from the United Kingdom or elsewhere in Europe.
"Storybook romance" may be overused, especially by newly engaged couples convinced theirs is the best | relationship | ever. But the phrase "storybook romance" definitely fits this news: A dashing Royal Air Force helicopter pilot, destined to be crowned king of England, will marry longtime girlfriend Kate Middleton. She accepted his proposal and ring while they visited Kenya in Africa. That is how to be romantic, guys.
Prince William, eldest son of Prince Charles and grandson of Queen Elizabeth, acknowledged: "I had done some planning to show my romantic side." His fiancee, who has middle-class roots, added in a British TV interview last week: "It was a total shock and very exciting."
The 18-carat diamond ring itself is highly sentimental: It originally was given to Princess Diana by Prince Charles when they became engaged in 1981. William asked for it after her 1997 death in a Paris car crash. He said last week the ring represents a time his parents were happy, adding: "It's it's very special to me, as Kate is very special to me now, as well." (It's OK to say aww. . . now.)
Though the pair are in line to be called king and queen, that won't happen soon. After Queen Elizabeth, now 84, steps down or dies in office, Charles becomes king. He's currently 62 years old. William, 28, will gain his father's title eventually. First comes a -- yes -- storybook wedding with a date and place still to be determined. It'll be quite the blowout, naturally, and already is being treated in Britain as a welcome break from news of budget cuts and financial uncertainty. A spokesman for William said the couple would be "mindful of the economic situation" while making party plans.

Prince William says: "We went through a few stumbling blocks like any other relationship, but we picked ourselves up." -- TV interview, Nov. 16

Kate Middleton says: "When you go out with someone you go through the good times, the bad times, you can really learn things about yourself." -- From same broadcast interview

Editor says: "Now all the royals have to do is make the wedding of the year look thrifty . . . and preferably green" -- Tina Brown, editor-in-chief of TheDailyBeast.com news site
Front Page Talking Points
is written by Alan Stamm for NIEonline.com, Copyright 2014
We welcome comments or suggestions for future topics:
Click here to Comment
Front Page Talking Points Archive
►Holiday tech gifts include new phone gadgets, app-driven robot, LEGO Technic, Skylanders tablet game
►Police body cameras are pushed in wake of deaths sparking protests across U.S.
►Calorie totals are coming to vending machines, popcorn counters and restaurants so we can eat smarter
►Here comes the holiday shopping frenzy – with resistance to Thanksgiving Day sales
►Why 'net neutrality' is in the news and how it affects you
►Why you hear about 'net neutrality' and how its affects you
►Space place crash makes trips by 'tourist' astronauts seem further out there
►Here's why midterm elections Tuesday in all states are important
►Cable TV and dish antennas lose popularity as digital streaming expands
►Federal response to Ebola grows as missteps spread concern