Common Core State Standard
SL.CCS.1/2/3/4 Grades 6-12: An essay of a current news event is provided for discussion to encourage participation, but also inspire the use of evidence to support logical claims using the main ideas of the article. Students must analyze background information provided about a current event within the news, draw out the main ideas and key details, and review different opinions on the issue. Then, students should present their own claims using facts and analysis for support.
FOR THE WEEK OF MAY 23, 2011
Ronald McDonald -- friend or foe? Depends who's asked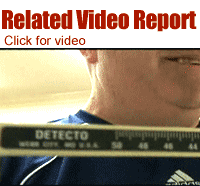 Look for other health or fitness news. Does any coverage apply to students?

Now check out ads, particularly in the features or lifestyle section. Can you spot one for a product or service promoting good health? How about a pitch for something that seems less beneficial?
After looking at photos in any news or feature sections, does it seem as though most people pictured are average weight or overweight?
Happy Meals make nutrition advocates unhappy. Health professionals and consumer groups last week urged McDonald's to retire Ronald McDonald as a brand symbol because they feel the clown encourages kids to eat foods high in fat, salt and calories. About 550 health specialists issued an open letter asking the company to "stop making the next generation sick." In addition, ads in six newspapers from a watchdog group urged McDonald's to stop marketing to children through the clown, toy giveaways and other tactics.
About 17 percent of children and adolescents are obese (dangerously overweight), according to the U.S. Centers for Disease Control and Prevention.
Company directors and investors didn't bite. Just 6 percent of shareholders voted for a proposal that would have forced the hamburger giant to tally the annual cost of defending children's meals against charges of contributing to childhood obesity. The world's largest fast-food chain maintains that customers make their own dietary choices. "This is about choice and we believe in the democratic process," chief executive Jim Skinner said last Thursday at the annual meeting for investors at corporate headquarters in Oak Brook, Ill.
A statement from the firm says: We understand the importance of children's health and nutrition, and are committed to being part of the dialogue and solution. We serve high-quality food, and our Happy Meals offer choice and variety in portions just for kids. Parents tell us they appreciate our Happy Meal choices."
One no-debate fact is that Ronald McDonald is well-known. He ranks fourth in consumer awareness out of 2,800 celebrities in an index created by an ad agency called The Marketing Arm. The colorful character, which made its TV debut in 1963, has become less clownish in recent years as fast food became criticized on health grounds. Ronald now also promotes exercise.

Company says: "Ronald McDonald is going nowhere. Ronald McDonald is an ambassador for McDonald's, and he is an ambassador for good. He does not advertise unhealthy food to children." -- Jim Skinner, McDonald's chief executive

Student says: "It's very fake . . . all his commercials, where he's jumping up and down, where he's always happy. You know that no one's always happy. It's silly. . . . In Ronald McDonald World, we have no problems, it's just happy all the time." -- Mollie Kerr, 11, suburban New York City

Blogger says: "McDonald's merely markets a product. We, as fatties, choose to buy it." -- Gordon Deal, The Wall Street Journal
Front Page Talking Points
is written by Felix Grabowski and Alan Stamm for NIEonline.com, Copyright 2014
We welcome comments or suggestions for future topics:
Click here to Comment
Front Page Talking Points Archive
►Holiday tech gifts include new phone gadgets, app-driven robot, LEGO Technic, Skylanders tablet game
►Police body cameras are pushed in wake of deaths sparking protests across U.S.
►Calorie totals are coming to vending machines, popcorn counters and restaurants so we can eat smarter
►Here comes the holiday shopping frenzy – with resistance to Thanksgiving Day sales
►Why 'net neutrality' is in the news and how it affects you
►Why you hear about 'net neutrality' and how its affects you
►Space place crash makes trips by 'tourist' astronauts seem further out there
►Here's why midterm elections Tuesday in all states are important
►Cable TV and dish antennas lose popularity as digital streaming expands
►Federal response to Ebola grows as missteps spread concern