►

Chile plagued by fires and floods
Answer FIVE Geography questions each week based on major news events.
►
Archive of Geography quizzes
---
NIESpecial Report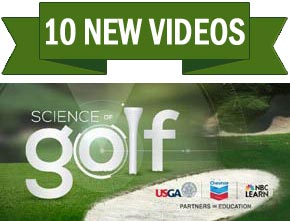 Science of Golf
This new 10-part series continues to explore the physics and math behind the game of golf. Provided by NBC Learn, in partnership with the United States Golf Association and Chevron, students will learn about calculating golfers' handicaps and golf scoring, the evolution of the golf club and ball, as well as how factors like friction, volume and energy all affect how a golf ball travels.
---

Diversity, multiculturalism, worldwide events. You'll find plenty for classroom discussions in this listing of events.

This week's word in the news: ROBUST
DEFINITION:
Requiring or characterized by much strength or energy.
---
FOUND IN THE NEWS:
This vaccine differs from other Ebola vaccines in development because, as an inactivated whole virus vaccine, it can prime the host immune system with the complete range of Ebola viral proteins and genes, which makes it more likely to trigger a robust immune response, according to a news release from UW-Madison.
►The Milwaukee Journal Sentinel -- 03/30/2015
---