Common Core State Standard
SL.CCS.1/2/3/4 Grades 6-12: An essay of a current news event is provided for discussion to encourage participation, but also inspire the use of evidence to support logical claims using the main ideas of the article. Students must analyze background information provided about a current event within the news, draw out the main ideas and key details, and review different opinions on the issue. Then, students should present their own claims using facts and analysis for support.
FOR THE WEEK OF FEB. 13, 2012
New study confirms drop in TV viewing by younger audience members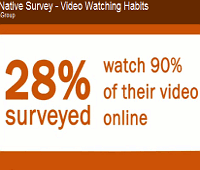 Find any other news about online, print or broadcast media.

Many newspapers post original news and feature videos. Tell whether you like that form of storytelling and why. Does it matter whether there's also an article on the same topic?
List benefits of reading newspapers and magazines in digital or print form.
There's fresh confirmation of something that separates older and younger generations: How much TV they watch. Americans aged 12-34 spend less time than in the past in front of TV sets, data shows, while those 35 and above spend more time. "Young people are still watching the same shows, but they are streaming them on computers and phones to a greater degree than their parents or grandparents do," the New York Times says, summarizing research issued last week by Nielsen, a company that tracks media use.
The age divide, also called a generation gap, shows the impact of Internet videos, social networks, mobile phones and video games -- alternatives to a TV set. Television viewing overall is steady, partly because older Americans -- especially those over 65 -- watch more than ever before, including via digital video recorders. But viewing among Americans under 35 has declined steadily since 2010, even when DVR use is counted.
The trend is a big deal for the media industry. If it continues, billions of dollars in ads could move away from traditional cable and network TV. The industry wants Nielsen to measure online and mobile viewing, just as it tracks traditional couch viewing. Ad-buyers are moving partially to the Web to reach consumers in their 20s and 30s.
The Times spoke with a 31-year-old father whose 4-year-old son watches TV via Roku, a small box that streams shows through the Internet. "I don't think he knows what a channel even is," says Jay Rishel of York, Pa. And for the first time this month, the Super Bowl was broadcast online as well as on television. More than 2 million fans watched the live stream at some point, which NBC says made it the "most-watched single-game sports event ever online." A vastly larger global audience of more than 111 million people watched on television.

Parent says: "I'm in my 50s, with teens. We all watch our media on [Internet-access] devices and if we want to do it together, we assemble in front of a BIG device" that gets streamed media. -- David Cook, Rhinebeck, N.Y., at New York Times website

Ad executive says: "Young people are always the first group to be doing other things, trying other things." -- Gary Carr of TargetCast TCM, a New York City agency

Journalist says: "Another 'duh' study about how young people don't watch as much TV as their elders. Nothing new here people, move along." -- Joe Flint, Los Angeles Times media reporter in a tweet (@jbflint)
Front Page Talking Points
is written by Alan Stamm for NIEonline.com, Copyright 2015
We welcome comments or suggestions for future topics:
Click here to Comment
Front Page Talking Points Archive
►Expect a cooler and wetter summer because of the 'El Nino' weather pattern
►New electricity source: Carmaker develops batteries strong enough to power homes
►Baltimore works to address tensions over a man's death in police custody
►Cosmic discoveries: NASA marks 25 years of Hubble Space Telescope payoffs
►President Obama brings us closer to restoring ties with Cuba
►A mighty beast deserves to get back the name Brontosaurus, scientists say
►Outcry over 'religious freedom' law in Indiana prompts a quick change
►Crusade calls for changing $20 bills to add first woman on U.S. paper currency
►Israel votes to keep its prime minister, whose campaign tactics strain relations with U.S.
►How Hillary Clinton got in email trouble and why it matters