Draw Your Own Conclusions!
Cartoons for the Classroom Caption Contest
for April 14, 2014 to April 27, 2014
Study the drawing below and come up with your own caption.
On April 27, 2014 we'll award a copy of the Best Editorial Cartoons of the Year: 2013 Edition to the student who submits the best caption for this cartoon.
►Download a printer-friendly version of this blank cartoon here.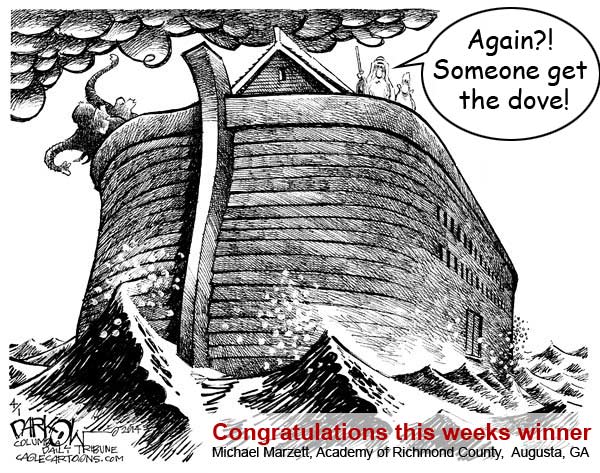 4 captions have been submitted for this cartoon
What about the rainbows....?
--Sydni Chambers
Creekland Middle School
Lawrenceville, GA
April 17, 2014
---
When the snow clears up we'll all be surfing the waves.
--Joaquin Wilson
ELMS
Syracuse, NY
April 16, 2014
---
Again?! Someone get the dove!
--Michael Marzett
Academy of Richmond County
Augusta, GA
April 14, 2014
---
Lo, I think I see Jimbo out there. I told him that the lifeboat had a hole in it.
--Anders Engnell
International Technology Academy
Pontiac, MI
April 14, 2014
---