Common Core State Standard
SL.CCS.1/2/3/4 Grades 6-12: An essay of a current news event is provided for discussion to encourage participation, but also inspire the use of evidence to support logical claims using the main ideas of the article. Students must analyze background information provided about a current event within the news, draw out the main ideas and key details, and review different opinions on the issue. Then, students should present their own claims using facts and analysis for support.
FOR THE WEEK OF SEP. 29, 2014
Millions of miles from Earth, a U.S. spacecraft orbits Mars to explore its atmosphere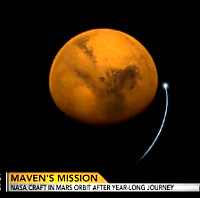 Find a photo or story about another travel mode and list similarities or differences with the spacecraft.

Choose an article about a distant spot – on of off Earth – and tell what's interesting.
Now read any science or technology news and summarize a few things you learn.
NASA doesn't launch shuttles or blast astronauts into space right now, but it's not idle. A spacecraft called MAVEN began orbiting Mars last week after a 442-million-mile trip that took 10 months. The robotic explorer, which won't land, will use eight instruments to study the red planet's upper atmosphere for at least one year "to answer some fundamental questions about Mars and life beyond Earth." the space agency says.
Data and images are transmitted back to scientists, who're looking for clues about how Earth's neighbor went from being warm and wet billions of years ago to cold and dry. That early wet world may have harbored living microbes. Another American craft, the Curiosity rover, has been exploring the surface of Mars since August 2012. Its main objective is to determine whether the environment could have been habitable to microorganisms. That answer is yes, findings confirm.
The new probe's name is short for Mars Atmosphere and Volatile Evolution Mission. It's as long as a school bus, from solar wingtip to tip, and as heavy as an SUV. NASA has a goal of sending astronauts to Mars in the 2030s – if Congress sets aside enough public money for that ambitious, costly venture. The current mission is part of an effort "to understand everything about Mars that we need to for humans to be able to land safely on Mars, and be able to explore and journey around the planet," says Jim Green, the agency's director of planetary science.

Astronaut says: "NASA has a long history of scientific discovery at Mars and the safe arrival of MAVEN opens another chapter." -- John Grunsfeld, astronaut and associate administrator at NASA

Mission scientist says: "I don't have any fingernails any more, but we've made it. It's incredible." -- Colleen Hartman, deputy director for science at Goddard Space Flight Center in Greenbelt, Md., speaking after the orbit began Sept. 21

Past missions: In the 1970s, NASA began landing spacecraft on Mars. In the 1990s, wheeled robots started exploring the planet's surface.
Front Page Talking Points
is written by Alan Stamm for NIEonline.com, Copyright 2014
We welcome comments or suggestions for future topics:
Click here to Comment
Front Page Talking Points Archive
►Millions of miles from Earth, a U.S. spacecraft orbits Mars to explore its atmosphere
►Auto racing goes green: Battery-powered cars reach 140 mph in new Formula E series
►Videogame 'athletes:' Are you college scholarship material?
►Meet an extinct beast: Newly identified dinosaur had a 37-foot neck, 30-foot tail
►E-cigarettes prompt new health concerns about young users, targeted with ads and flavors
►Strong arm: Mo'ne Davis, 13, becomes a national baseball star with her blazing fastball
►Fatal police shooting of unarmed teen focuses national attention on Ferguson, Missouri
►NBA turning point: San Antonio Spurs hire Becky Hammon as assistant coach
►Stay out of tanning booths and limit outdoor sun exposure, the government warns
►Federal agency warns about health risk of Alert Energy and other pure caffeine products