NASA's Space Place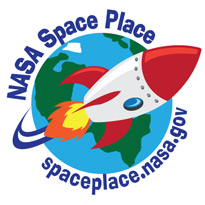 A Really Big Picture
Last year, the United States government took a census. They tried very hard to count every single person in the country. This was a very big job!
Now, imagine trying to take a census of every single star and galaxy in most of the universe. The whole Earth has far fewer people—about 6.8 billion—than our own Milky Way galaxy has stars—about 100 billion. And there are maybe 200 billion galaxies in the universe!
But accounting for most of those stars and galaxies is the job of the Galaxy Evolution Explorer space telescope. It has already completed one census, or survey, that covered 65% of the sky. Now it's working on a second survey, peering even deeper into space.
This space telescope is special in two ways.
First, it looks at the stars and galaxies in ultraviolet light. This is a kind of light that our eyes cannot see. This light contains more energy than visible light. New stars, which are hotter than older stars, put out lots of ultraviolet light. So the Galaxy Evolution Explorer is particularly good at seeing where new stars are forming in galaxies.
The second way this telescope is special is that it has a wide field of view. In this case, that means that every image covers a piece of sky about four times larger than the full Moon. The Explorer's team recently pieced together 400 of the telescope's individual images. To show how much of the sky this mosaic image includes, they added an image of the Moon at the same scale. It looks very small floating in the lower left corner. As large as it seems, this whole big picture is only 1% of the all-sky imaging survey.
What you see in this image is part of the Gum Nebula. This nebula is the wispy gas and dust left over from a supernova explosion that happened a million years ago. A supernova is the big "blowout party" when a huge star (much bigger than our Sun) comes to the end of its life. The nebula looks very big because it is much closer than the stars in the background.
To see this image in detail on your computer and download a poster of it, visit The Space Place at spaceplace.nasa.gov/en/educators/posters/#survey. You can also play "Photon Pile-up" at spaceplace.nasa.gov/en/kids/galex/photon to help the Galaxy Evolution Explorer make beautiful space pictures.
This image of the sky is made up of 400 separate images taken in ultraviolet light by the Galaxy Evolution Explorer spacecraft. It covers a piece of sky that is 1600 times as big as the full Moon appears.
This article was written by Diane K. Fisher and provided courtesy of the Jet Propulsion Laboratory, California Institute of Technology, under a contract with the National Aeronautics and Space Administration.