NASA's Space Place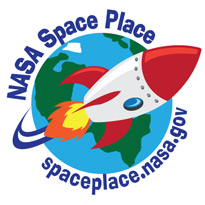 Searching Where the Light is Better
A girl is on her hands and knees one evening searching for something under the street light. "What are you looking for?" you ask. "My contact lens," she replies. "I think it popped out over there in that alley." "Then why are you looking for it here?" She replies, "Because the light is better, silly."
Well, that doesn't make sense. But sometimes looking for something where the light is better does make sense.
Using powerful telescopes, astronomers have found over 500 "exoplanets"—planets outside our solar system. However, telescopes cannot usually see an exoplanet directly. Looking for an exoplanet in the bright glare of its star is like looking for a mosquito in the glare of a headlight—from a mile away!
Fortunately for planet hunters, exoplanets are abundant. And some stars make it a lot easier for astronomers to find their planets. So, like looking for a lost object where the light is better, astronomers can look for planets where lighting conditions are more favorable for finding them.
Small, young stars, called red dwarfs, are cooler than larger or older stars like our Sun. And because they are young—under 100 million years (for a star, that's young!)—their planets are newer and warmer and brighter than older planets.
So, with a cooler star and warmer planets, astronomers are more likely to actually see the planets. The planets will still look pretty fuzzy. But using special instruments on the telescope, astronomers can learn what's in the planet's atmosphere and other valuable information.
NASA's Galaxy Evolution Explorer space telescope sees ultraviolet light—a kind of light our eyes can't see. The light from these young red dwarf stars contains a larger proportion of ultraviolet than more mature stars like our Sun do. So Galaxy Evolution Explorer has helped to identify lots of these red dwarfs, even though, overall, they are very faint.
Now astronomers know where the "streetlights" are—the best places to look for lost objects, or new planets!
How do astronomers know how far away a star or galaxy is? Play "How Old do I Look" on The Space Place at http://tiny.cc/whats-older and find out!
This artist's concept shows a red dwarf star with three planets. Because the star is dimmer and cooler than most stars and its planets are warmer and brighter, telescopes may be able to actually see the planets directly.
This article was written by Diane K. Fisher and provided by the Jet Propulsion Laboratory, California Institute of Technology, under a contract with the National Aeronautics and Space Administration.