NASA's Space Place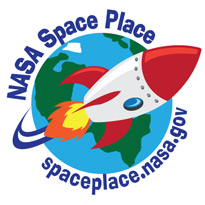 Build It, and the Universe Will Come
by Dr. Marc Rayman
Jupiter is our solar system's largest planet by far. It contains twice as much material as all the other planets combined. It's also quite stunning, with its colorful bands and its Great Red Spot - a storm big enough to swallow Earth!
But those facts do not begin to tell Jupiter's story. Unlike the four rocky planets closest to the Sun, Jupiter is a gas planet. It's mostly hydrogen. You could not set foot on Jupiter even if you wanted to! Jupiter may be beautiful, but it would not be a nice place to vacation.
So, if Jupiter is made of gas, is it like a cloud? Could you fly a spaceship right through it? Not a chance.
Unlike a cloud, Jupiter is a sphere. Why? Because Jupiter is so massive that the force of gravity has pulled in all of its material as tightly as possible. And deep down, it becomes very hot and incredibly dense.
If you could dive into Jupiter you would find some bizarre conditions indeed. Scientists think that deep inside Jupiter the hydrogen gas gets squeezed into a swirling liquid ocean that conducts electricity like a metal!
Spacecraft have visited and studied Jupiter before but the giant planet still holds many mysteries. How did Jupiter form? What is its interior really like? How deep do the red spot and cloud bands go? How do Jupiter's auroras (or northern and southern lights) work?
The Juno mission will try to answer these questions. NASA plans to launch the Juno spacecraft this August. It will arrive at Jupiter in July 2016. It will orbit over Jupiter's north and south poles and will come closer to Jupiter than any other spacecraft. Juno will map and measure many different things about Jupiter that will help scientists unravel its true nature.
Play JunoQuest at The Space Place, and help Juno fulfill its exciting mission. Visit http://spaceplace.nasa.gov/junoquest.
Juno will fly closer to Jupiter than any previous spacecraft. It will study Jupiter's atmosphere, magnetic field, and gravity. It will help us discover how the giant planet formed.
This article was provided courtesy of the Jet Propulsion Laboratory, California Institute of Technology, under a contract with the National Aeronautics and Space Administration.