NASA's Space Place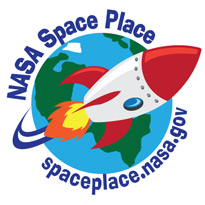 Living in a Double Bubble
By Diane K. Fisher
Earth is a pretty safe place to be in the big, scary universe. That's because Earth is inside a strong protective bubble. And that bubble is inside another strong protective bubble.
The first bubble is Earth's magnetic field, or magnetosphere [mag-NEET-o-sphere]. It is an invisible force field created by Earth's core, which acts as a magnet. The magnetosphere protects Earth—and Earth's atmosphere—from the solar wind and harmful radiation from the Sun. The solar wind is a very fast stream of hot gas and particles all charged up with electricity. The Sun is constantly belching out its solar wind at around 1 or 2 million miles per hour! If not for the magnetosphere, our atmosphere would be blown away by the solar wind, and Earth would be toast.
So what is the second, outer protective bubble? What else would Earth need protection from that could possibly be worse than the solar wind itself?
The answer to that is the interstellar medium—the "wind" between the stars of our galaxy. What's so hazardous about this galactic environment? Well, consider that our solar system is racing through the Milky Way galaxy at 220 kilometers per second (that's about 492,000 miles per hour!). No matter how little matter is blowing around out there in the space between the stars, our solar system needs a wind shield! The solar wind provides it by pushing outward from the Sun, carving out a protective bubble in the space between the stars. This bubble is called the heliosphere.
Scientists have a lot of questions about the heliosphere, especially its boundary, where it actually meets up with the interstellar medium. What happens when the solar wind has traveled so far that it begins to slow down? What happens out there where it can't push back any more against the moving particles and magnetic fields of the surrounding space between the stars?
The two Voyager spacecraft, which left Earth way back in 1977, are close to finding some of the answers. Voyager 1 is way out there, about 11 billion miles from the Sun, where the solar wind has slowed to a stop. It could cross the boundary of the heliosphere into interstellar space at any time. Voyager 2 is not as far, so may take a few more years to leave the solar system.
Watch the latest Space Place Live cartoon interview to learn more about the heliosphere and this exciting space mission. Watch and listen to Voyager project scientist Merav Opher at http://spaceplace.nasa.gov/space-place-live.
Voyager 1 is very close to leaving the heliosphere, the bubble in space created by our Sun and its solar wind. Voyager 1 will be Earth's first interstellar traveler!