NASA's Space Place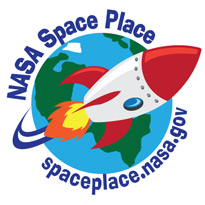 Stay Tuned for the Aurora
by Dr. Marc Rayman
Sometimes, the night sky is filled with dancing curtains of blue-green light, with patches of red and pink. It's the aurora borealis, also called the northern lights. The closer you live to the North Pole, the more likely you will see an aurora. The same light show is also visible near the South Pole, where it is called the aurora australis, or southern lights.
The auroras look like Earth is performing for us, with the sky for a stage. However, the Sun is actually directing the show. The Sun is always sending out a stream of electrically charged particles called the solar wind. When the particles get close to Earth, they start to feel the effect of Earth's strong magnetic field.
Earth is like a giant magnet, with its field curving all around the planet and coming together into almost a funnel shape near each of Earth's two poles. This field is called Earth's magnetosphere. It protects us from the solar wind, most of the time steering the charged particles away from our planet. But the magnetic field also traps some of the charged particles and funnels them down toward the poles. Then we get an enormous flow of electricity right into Earth's atmosphere.
When the charged particles collide with the thin air 60 miles or more above the ground, the gases in the atmosphere give off light like the glowing gas in a neon light tube. Nitrogen may turn red, blue, and violet, and oxygen can color the sky red and green.
Although auroras occur every year, some years the Sun is more active. Sometimes, huge explosions on the Sun fling tremendous numbers of charged particles into space. If these happen to be aimed at Earth, we can be treated to an especially marvelous display two or three days later, once the particles have raced across the space between the Sun and us.
The new GOES-R satellite will keep track of these charged particles from the Sun as part of its regular duties. Help GOES-R gather up all this data. Play the fun, colorful game Satellite Insight on The Space Place at http://spaceplace.nasa.gov/satellite-insight.
The aurora borealis, as seen from Bear Lake, Alaska. (Credit: U.S. Air Force/Joshua Strang)
This article was provided through the courtesy of the Jet Propulsion Laboratory, California Institute of Technology, Pasadena, California, under a contract with the National Aeronautics and Space Administration and support from the U.S. Department of Commerce National Oceanic and Atmospheric Administration.