NASA's Space Place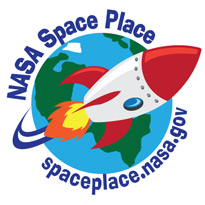 Planet Hunting
For centuries scientists have studied our own solar system consisting of the Sun and planets. But they did not know of any other solar systems until just the last few years. That's because planets around other stars are really hard to find. Planets shine only by the light they reflect from their star. Other solar systems are very far away, so seeing one of their planets may be harder than seeing a grain of sand next to a car's headlight from miles away.
Nonetheless, in the middle 1990s, astronomers found strong evidence of planets around other stars. They couldn't see them directly, but they discovered that some stars wobble just a little bit. They figured this wobble was most likely due to the force of a large planet's gravity as it orbited the star. Although the star's gravity holds the planet tightly in its orbit, the planet's gravity also tugs on the star and makes it wobble, and that is what astronomers measure.
Astronomers then found other ways to detect planets. For example, as a planet orbits its star, the planet may pass in front of it and block some of the star's light. Even though the planet is tiny compared to the star, extremely sensitive instruments can measure the tiny change in the star's brightness.
How common are other solar systems? Is our solar system typical, with giant planets like Jupiter and smaller ones like Earth? Are there other planets capable of supporting life?
So far, astronomers have found more than 500 solar systems and are discovering new ones every year. There may be tens of billions of solar systems in our galaxy, perhaps even as many as 100 billion. No one yet knows how accurate this estimate is or how similar other solar systems are to ours. NASA is working on space missions that will help scientists to find other solar systems and to study their planets in greater detail. Soon we will know much more.
Visit The Space Place and read about Lucy, the girl who dreamed of someday finding another Earth and did something to make her dream come true. Go to http://spaceplace.nasa.gov/story-lucy.
This artist's rendering shows a steaming hot (with water!) planet discovered in another solar system.
This article was written by Dr. Marc Rayman and Diane K. Fisher, and provided through the courtesy of the Jet Propulsion Laboratory, California Institute of Technology, Pasadena, California, under a contract with the National Aeronautics and Space Administration and support from the U.S. Department of Commerce National Oceanic and Atmospheric Administration.