NASA's Space Place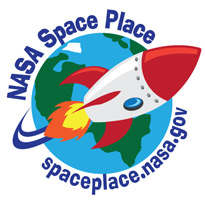 Where Did Earth Get its Moon?
By Dr. Marc Rayman
Earth's graceful 24-hour rotation rate is one of the traits that makes our planet so friendly to life. This length of time allows most parts of Earth to stay a nice, comfortable temperature as they are bathed in sunlight during the day and darkness at night.
Each planet in the solar system has its own unique rotation rate. Tiny Mercury, sizzling closest to the Sun, takes 59 Earth days to turn around just once. Venus, the second planet, rotates once every 243 Earth days.
Why do Earth and the other planets rotate at all? To understand that, it will help to understand how our solar system formed. Almost five billion years ago, our solar system began as a vast cloud of dust and gas. The cloud began to collapse, flattening into a giant disk that rotated faster and faster, just as an ice skater spins faster as she pulls her arms in close to her body. The Sun formed at the center, and the swirling gas and dust in the rest of the spinning disk clumped together to produce the planets, moons, asteroids, and comets. The reason so many objects orbit the Sun in nearly the same plane and in the same direction is that they all formed from this same disk.
While the planets were forming, clumps of matter of all sizes often collided, and either stuck together or side-swiped each other, knocking off pieces and sending each other spinning. Sometimes the gravity of big objects would capture smaller ones in orbit. This could be one way the planets acquired their moons.
Scientists think that a large object, perhaps the size of Mars, collided with our young planet, knocking out a chunk of material that eventually became our Moon. This collision set Earth spinning faster. Scientists estimate that a day in the life of early Earth was only about 6 hours long.
The Moon formed much closer to Earth than it is today. As Earth rotates, the Moon's gravity causes the oceans to seem to rise and fall. (The Sun also does this, but not as much.) There is a little bit of friction between the tides and the turning Earth, causing the rotation to slow down just a little. As Earth slows, it lets the Moon creep away. At the rate it is slowing, though, you won't notice it during your lifetime.
Learn more about the great variety of planets and moons in the solar system by playing the Solar System Explorer game at The Space Place. Visit spaceplace.nasa.gov/solar-system-explorer.
This article was provided through the courtesy of the Jet Propulsion Laboratory, California Institute of Technology, Pasadena, California, under a contract with the National Aeronautics and Space Administration.
The Moon's orbit around Earth is not a perfect circle. In the picture on the left, the Moon is at its farthest from Earth (apogee) and on the right it is at its closest (perigee). Imagine how big it looked when it was first formed possibly 12 times closer to Earth! (Images courtesy of Anthony Ayiomamitis, www.perseus.gr.)