NASA's Space Place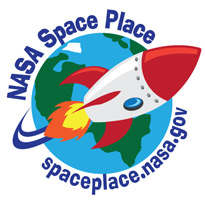 Carbon's Travels
If you weigh 100 pounds, 18 pounds of you is pure carbon. Plants are almost half carbon. Even pure carbon (that is, carbon not combined with anything else) comes in many forms, such as coal, charcoal, even diamonds. Carbon is versatile. Carbon moves.
Let's follow a single carbon atom for a while to see where it goes. Let's name our carbon atom Cesar. When we first meet Cesar, he is pals with two oxygen atoms. The three of them together make a carbon dioxide, or CO2, molecule. They live in the air. Cesar's CO2 molecule breezes past a banana tree and is grabbed by one of its big leaves. Using energy from the Sun, the leaf breaks up Cesar's cozy three-some and uses him, along with some other oxygen and hydrogen atoms, in its recipe for sugar. Cesar is now part of a banana.
A monkey comes along and eats the banana. Cesar's sugar molecule is digested, and Cesar ends up in a different kind of sugar molecule, which is stored in the monkey's thigh muscle. When the monkey clambers up a tall tree, the thigh muscle burns Cesar's sugar molecule for fuel. Cesar ends up as part of the exhaust, in another CO2 molecule. The monkey exhales the CO2, so Cesar (the C in the CO2) and his two new oxygen pals (the O2 part) are back where they started-as part of the atmosphere.
Of course every carbon atom has a different history. But they all go 'round and 'round. This is called the "carbon cycle." Just as when a carbon molecule is "burned" in the monkey's muscle, burning the carbon molecules in coal and gasoline puts CO2 exhaust into the air. If the atmosphere has too much CO2, it holds in too much of the Sun's heat, so Earth gets warmer. In other words, CO2 in the atmosphere has a greenhouse effect.
It's important to keep the carbon cycle in balance. Much of the CO2 that is added to the air is soaked up by the ocean and plants. But if too much CO2 is added to the air too fast, the ocean and plants can't keep up, and Earth gets warmer and warmer. And the excess CO2 stays in the atmosphere for hundreds of years.
Help to balance the carbon cycle. Play "Greenhouse Gas Attack" and help clear the atmosphere of too much carbon dioxide and excess amounts of other gases that make Earth too warm. Go to http://spaceplace.nasa.gov/greenhouse-gas-attack.
This article was written by Diane K. Fisher and provided through the courtesy of the Jet Propulsion Laboratory, California Institute of technology, through a contract with the National Aeronautics and Space Administration.

It is important to balance the amount of carbon going into the atmosphere with the amount of carbon leaving the atmosphere.