NASA's Space Place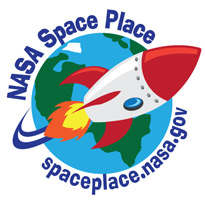 Another Earth?
By Alex H. Kasprak
National Aeronautics and Space Administration
Look up at the night sky and, if you are lucky, you will see hundreds of stars. Some of these stars might actually have planets circling around them, just like the planets in our own solar system. Scientists have already found over 800 planets circling around stars other than our Sun. These planets are known as "exoplanets."
Finding an exoplanet isn't that easy, though. You can't just point a telescope at a star and expect to see a new planet. The star is too bright, and its light makes it impossible to see anything smaller nearby. One way scientists solve this problem is to wait for an event called a transit. A transit occurs when a planet passes in front of a star. When this happens, the planet blocks a little bit of light from reaching Earth, making the star appear a bit dimmer. When scientists observe a star that briefly becomes dimmer, they may have found a planet. Scientists can confirm that it is a planet by making additional observations.
The transit method can do a lot more than just find another planet, though. Scientists can figure out how large the planet is by seeing how much dimmer the star gets when a planet travels in front of it. Even more impressive, scientists can also learn something about the atmosphere of an exoplanet. When light travels from the star to Earth, some of that light passes through the exoplanet's atmosphere. Using precise instruments, scientists can see subtle changes in that light. These changes help the scientists to discover the temperature of the planet and find out what chemicals may be in the atmosphere of a planet we can't even see!
While over 800 exoplanets have already been found, some scientists think that there could be as many as 100 billion planets in our galaxy alone! That really makes you think. Could we really be alone in the universe with so many other planets zipping around the stars in our night sky?
Visit The Space Place website to learn about a transit that occurred right here in our own solar system: http://spaceplace.nasa.gov/venus-transit.

Artist's conception of an exoplanet named Kepler-62f passing in front of its star. This planet is slightly larger than Earth and was discovered using the transit method. Credit: NASA/Ames/JPL-Caltech.