NASA's Space Place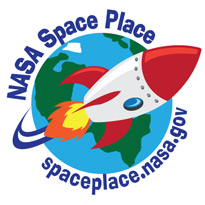 The Tiny Moon That Created Saturn's Largest Ring
Alex H. Kasprak
National Aeronautics and Space Administration
Saturn has many beautiful rings. But the largest of these majestic rings is its E-ring. The ring is almost as wide as the distance between the Earth and the Moon. It is made up of billions of microscopic icy particles.
These shiny particles have an unlikely source. Zipping around Saturn in the same place as the E-ring is a tiny moon called Enceladus. Enceladus is just about 1/7th the size of Earth's moon. You might think that such a small moon so far away from the Sun's warmth would be a frozen wasteland. But, shockingly, Enceladus has volcanic geysers. These geysers erupt tiny particles high into space. The particles are the same shiny particles that make up the E-ring.
The volcanic eruptions on tiny Enceladus are constantly 'feeding' Saturn's E-ring with material. But these eruptions are nothing like the ones created by volcanoes found on Earth. On Earth, volcanoes eject melted rock, ash, and gases. On Enceladus, volcanoes eject water vapor and ice.
This icy material may come from an ocean of liquid water under Enceladus' frozen surface. But for liquid water to exist, it must be heated. Scientists think that at least some of this heat comes from Saturn's gravity. Saturn's massive gravitational pull bends and warps Enceladus. This warping causes friction. The friction creates heat. The warmed water builds up pressure. This pressurized water ejects through cracks in Enceladus' surface.
The jets of water freeze into tiny, icy particles as they shoot into space at over 1300 miles per hour. This mysterious little moon is the reason for the largest ring found in our Solar System!
Check out Space Place's new Space Volcano Explorer to learn more about the many Volcanoes found in our solar system: http://spaceplace.nasa.gov/volcanoes.
Plumes of water ice, termed by some as the "Fountains of Enceladus," are ejected into space from Enceladus' south pole. Credit: NASA/JPL/Space Science Institute.