NASA's Space Place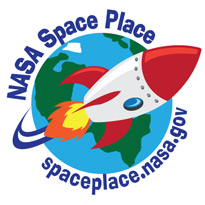 A Glimpse Into the Past
Alex H. Kasprak
National Aeronautics and Space Administration
Science would be a lot easier with a time machine, wouldn't it? Scientists are always asking questions about how things in the past led to the universe we know today. Take the formation of our solar system 4.6 billion years ago. We've got a pretty good idea of how it happened, but wouldn't it be great if we could see actual snapshots of the entire process?
We can actually get pretty close to doing that, it turns out. A group of astronomers recently went back and looked at some old photos taken by the Hubble Space Telescope. They wanted to see if a new way of looking at the photos would allow them to observe other stars in the early stages of forming a solar system.
What these astronomers were looking for were hazy, dusty disks of debris surrounding young stars. That's because we are pretty sure that our solar system formed from a dusty cloud that turned into a star. The material left over would have collected in a massive disk with gas, dust, and larger bits of space junk colliding and growing in size as they orbited around the star. Eventually, we think, these clumps would have formed into the planets, moons, asteroids, and comets we know today.
It's pretty hard to see dust or even a planet elsewhere in the galaxy. We've seen them before, but it would be great to be able to go back and use old data to try and find more of them. These scientists decided to take a look at how light scattered around some stars already imaged by the Hubble Space Telescope. They looked for evidence of material blocking the path of the stars' light.
Their efforts paid off. Using the new technique, they found five new disks around stars that showed no signs of having a disk the first time scientists looked at them. One of the stars, HD 141943, appears to be exactly like our own sun when it was first forming planets. It's practically a snapshot of the birth of our own solar system!
With any luck, scientists will be able to locate more and more planet-forming disks by applying this method to other old (and new) images. If we find more systems similar to our own at different stages in their evolution, we might be able to see the whole process of solar system formation from start to finish.
That would be as close to using a time machine as we are ever going to get!
Watch this cool video about how our solar system formed at NASA's Space Place and then download the accompanying poster: http://spaceplace.nasa.gov/solar-system-formation.
Hubble images of debris disks around stars on top, artist's interpretation of their shape on the bottom.The disk on the left is thought to look similar to our own solar system during its formation. Credit: NASA/ESA, R. Soummer, Ann Feild (STScI).