NASA's Space Place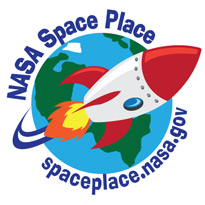 Water on Mars?!
Katie McKissick
National Aeronautics and Space Administration
Mars is a cold desert world about half the size of Earth. Because of rusty iron in the ground, Mars is sometimes called the "Red Planet."
Like Earth, Mars has seasons, volcanoes, canyons, and weather. When Mars was a young planet, it may even have had oceans. Today, water on Mars exists as a solid in the polar ice caps and as ice crystals in thin clouds in the Martian atmosphere. Scientists have seen evidence that liquid water was on the surface a long time ago in Mars' ancient history. However, liquid water on the surface of Mars today has been hard to find.
Until now! Recently, NASA researchers announced they found evidence of liquid water on the surface of Mars. This is surprising because Mars is a very cold planet with a thin atmosphere. Since it's so cold, most of the water there would be locked into place as ice. And since there is only a thin atmosphere, liquid water would evaporate very quickly.
How did we find evidence of water there? Mars has several rovers on the surface and satellites orbiting around it. It was one of those satellites that led to this discovery. It's called the Mars Reconnaissance Orbiter, or MRO for short. MRO has been studying the history of water on Mars since 2006. It takes close-up pictures of the surface. It analyzes rocks and minerals from orbit. It also monitors Mars' weather.
So how did it find water? In pictures of the Martian surface, researchers saw hills and crater walls with interesting streaks that changed over time. In the warm seasons, the streaks got longer and darker for a short time and then faded.
Now researchers have evidence that those streaks contain water mixed with salty minerals. Salty water! This makes sense because adding salts to water lowers its freezing point. In other words, water can remain liquid even though it's really, really cold. (This is why we put salt on icy roads: it makes the ice melt.)
This all means that the streaks we can see on the hillsides and walls of craters are probably from salty water, which seeps down steep slopes just below the surface in warmer months. That turns the hillside a dark color, the same way dirt gets darker on Earth after it rains.
This is an exciting discovery because it's the first time we've seen evidence of liquid water on Mars. It leads to lots of new questions. How much water is there? How salty is it? Where does it come from? Could any small organisms live in this salty water?
Want to know more about Mars? Find facts, cartoons, and pictures at http://spaceplace.nasa.gov/all-about-mars.
Here is a picture of a place called Hale Crater. You can see dark, narrow streaks running down the slopes. Scientists think these streaks are signs of flowing water. They appear in warmer months and disappear in colder months. The streaks are about as long as a football field. Image Credit: NASA/JPL-Caltech/Univ. of Arizona.