NASA's Space Place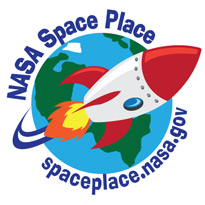 Comets that Graze the Sun
Katie McKissick
National Aeronautics and Space Administration
It's not easy finding comets, especially when they're near the bright, shining sun. Comets that approach the sun are called sungrazers. They can be as small as 30 to 150 feet in diameter. That's the length of a limousine up to half a football field. Out in space, that's a very small object to find. Also, some of these comets are only bright for a few hours before they go around the sun and burn up.
So how do we spot these sungrazer comets? We find them with a satellite that watches the sun from space.
The Solar and Heliospheric Observatory (SOHO), a joint project of the European Space Agency and NASA, was launched in 1995. SOHO's main mission is to observe the sun and the space around it. It watches the sun for giant explosions called coronal mass ejections. It looks at the constant energy and particles the sun releases that we call the solar wind. It wasn't built to find sungrazing comets, but it turned out to be really good at it.
SOHO has discovered over 3,000 comets. In fact, it is the greatest comet finder of all time. Before SOHO, only about a dozen comets had been discovered from space. And only 900 had been discovered from the ground.
SOHO didn't find all these comets by itself. It gathered lots of data about what's going on around the sun, but it took many people looking at the data to spot the sungrazers. The data is available for everyone to see, including citizen scientists. These are volunteers who help out with scientific research. Lots of people with all different backgrounds helped spot the comets. In all, 95 percent of SOHO's comets were found by citizen scientists, including teachers, writers, and 13-year-olds.
We can learn a lot from comets. These chunks of ice and rock flying through space can teach us about how our solar system formed. When they get close to the sun, their gas tails light up and blow in the solar wind. Looking at their tails closely, we can learn more about the solar wind and what makes the tails shine so brightly.
Want to make your own comet? Visit http://spaceplace.nasa.gov/comet-stick.
The dot in the cross hairs is a comet streaming toward the sun, as seen on Sept. 14, 2015, by the ESA/NASA Solar and Heliospheric Observatory (SOHO). This is the 3,000th comet discovered in SOHO data since the spacecraft launched in 1995. The comet was originally spotted by Worachate Boonplod of Samut Songkhram, Thailand by looking through SOHO images. Credit: ESA/NASA/SOHO.