NASA's Space Place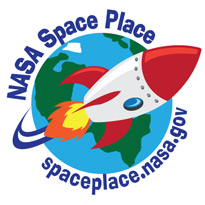 Watching El Niño Closely… From Space!
Katie McKissick
National Aeronautics and Space Administration
This past year, Earth has had unusually warm water in the Pacific Ocean near the equator. Believe it or not, this one thing can lead to a lot of interesting weather events all over the globe. We call it El Niño. It happens because of changes in winds and ocean circulation. We can't predict an El Niño before it happens, but we can watch it closely when it does. This is one of the many things that scientists at NASA do: they keep an eye on Earth and track big events like El Niño.
What exactly are they looking at? Because El Niño causes so many strange things to happen, scientists have plenty to watch. They use information from more than a dozen satellites orbiting Earth to keep track of what's happening all over the planet.
A big thing they're looking at is temperature and how different it is from usual. This includes the temperature of the air and the temperature of bodies of water like the ocean. Temperature affects a lot of things, like the sea level height, humidity, clouds, and storms—even big tropical storms like hurricanes and typhoons. The temperature of the ocean also affects all the things that live there, from small phytoplankton to fish and whales. NASA is keeping an eye on all of it.
You might be wondering how NASA scientists could monitor living things in the ocean from space. After all, it is quite a distance away. But you can tell a lot by looking at the color of ocean waters. The colors can give us clues about living things in the water and how much food there is for them to eat. Phytoplankton, for instance, is bright green. We can see the green color in the ocean with Earth-orbiting satellites. During El Niño, the water is less green than usual because there is less phytoplankton. This is bad news for fish because that's what they eat.
Scientists also keep a close eye on rainfall all over the world during an El Niño year. In the western United States, El Niño brings lots of rain, but in places like Australia, El Niño brings less rain. Some places have floods while others experience drought. El Niño makes a lot of things change.
Since El Niño changes the amount of rainfall, there is also a difference in the number of wildfires. During El Niño years, there are more wildfires, especially in Indonesia, Central America, and the southern and central Amazon. Some of NASA's satellites observe wildfires and can even tell the difference between active flames and smoldering burns. These satellites can also monitor the affects of all the smoke and ash that go into the atmosphere during a big fire.
El Niño causes some big changes and strange weather, but NASA scientists are watching closely. Every day they learn more about El Niño, the weather, and our planet.
Want to learn more about El Niño? Visit NASA Space Place, and then whip up some El Niño pudding! http://spaceplace.nasa.gov/el-nino.
This image shows the Sea Surface Temperature Anomalies (SSTA) of this year's El Niño. The big red band in the ocean shows where it's much warmer than usual. Image credit: NASA/JPL/PODAAC, NOAA