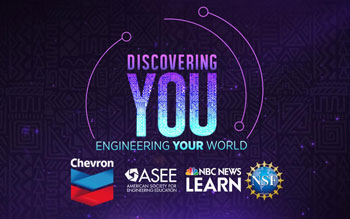 Produced by NBC News Learn, the education division of NBC News, in partnership with Chevron, the American Society for Engineering Education (ASEE), and the National Science Foundation (NSF) "Discovering You" is an original 20-part video series. Each video installment showcases what motivates a diverse group of engineers both academically and professionally, including teamwork, creativity and making a difference in the world around them Aligned to state and national education standards, each video has a downloadable lesson plan for educators to use in the classroom.
If you enjoy these educational series, click here to find out more about NBC Learn's full digital library of over 22,000 K-12 standards-aligned video and digital resources."
Discovering You: Samantha Domiguez
Samantha Dominguez is a systems engineer at the Boeing Company in Oklahoma City, Oklahoma. Her work on airplane radar and communication systems helps keep those on the front lines safe in the air.
---
Discovering You: Nina Tandon
Nina Tandon is a biomedical engineer in Brooklyn, New York. Her company, EpiBone, helps people by growing bone using a patient's STEM cells.
---
Discovering You: Yung Koprowski
Yung Koprowski is a transportation engineer in Mesa, Arizona. Her job is to help drivers, bicyclists and pedestrians move around the Phoenix area as safely and efficiently as possible.
---
Discovering You: Katie Schwertz
Katie Schwertz is an optical engineer at Edmond Optics in Tucson, Arizona. She designs components for different types of optics, such as microscopes and laser beam expanders.
---
Discovering You: Lane Daley
Lane Daley is a chemical engineer working at the Clif Bar Bakery in Twin Falls, Idaho. She designs processes at the bakery to efficiently produce the energy bars.
---
Discovering You: Victoria Schein
Victoria Schein is an automotive design engineer for Ford Motor Company in Dearborn, Michigan. She designs products that will be used in future Ford vehicles to keep drivers safe on the road.
---
Discovering You: Angelique Johnson
Angelique Johnson is an electrical and biomedical engineer in Louisville, Kentucky. Her medical technology company, MEMStem, LLC, uses automated manufacturing to make cochlear implants more affordable for patients.
---
Discovering You: Shaesta Waiz
Shaesta Waiz is a pilot originally from Afghanistan and currently living in Florida. By engineering fuel tanks to fly further, Shaesta became the youngest woman to fly solo around the world in a single-engine airplane.
---
Discovering You: Sossena Wood
Sossena Wood is a bioengineer pursuing her PhD at the University of Pittsburgh. Her research focuses on improving the detection of brain disease in humans using MRI machines instead of surgery.
---
Discovering You: Zaida Hernandez-Irisson
Zaida Hernandez-Irisson is an electrical engineer at Fischer, USA, in Racine, Wisconsin. In addition to finishing her engineering degree at the Milwaukee College of Engineering, Zaida also mentors girls in her community.
---
Distributed by NIEonline.com with permission
About NBC Learn
NBC Learn is the educational arm of NBC News dedicated to providing resources for students, teachers, and lifelong learners. The online resources NBC Learn has created for the education community leverages nearly 80 years of historic news coverage, documentary materials, and current news broadcasts. Currently two unique offerings, iCue and NBC News Archives on Demand, give students and teachers access to thousands of video clips from the NBC News archives, including great historic moments--from the Great Depression to the Space Race to the latest political coverage. NBC Learn also offers primary source materials, lesson plans and classroom planning resources, and additional text and image resources from our content partners.