UN vote calls on Israel to halt settlements
Q: The United Nations security council adopted a landmark resolution demanding a halt to all Israeli settlement in the occupied territories after Barack Obama's administration refused to veto the resolution. Where is Israel?
Circle the area on this map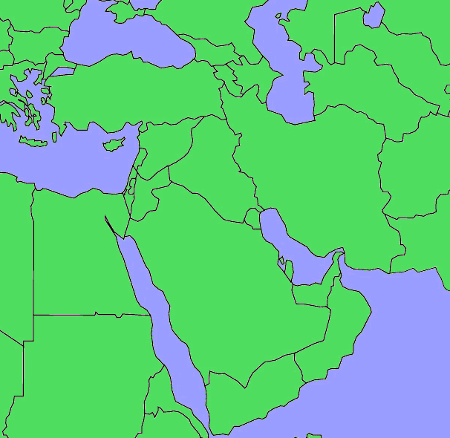 ---
Q: Jewish settlers have built 125 settlements and 100 outposts throughout the area known as the West Bank and in East Jerusalem, which Israel occupied after the Six-Day War in 1967. Before the war, the territory had been ruled by Israel's eastern neighbor . . . .


A. Egypt



B. Jordan



C. Lebanon



D. Syria


Q: Besides Jordan, Israel has seized and occupied territory from what other nation?


A. Egypt



B. Lebanon



C. Syria



D. All of the above


Q: Which of Israel's neighbors was the first Arab nation to officially recognize the state of Israel?


A. Egypt



B. Jordan



C. Lebanon



D. Syria


Q: Israeli and Palestinian leaders agreed to the principal of a two-state solution to their conflict in an 1993 accord signed in Norway's capital . . .


A. Copenhagen



B. Helsinki



C. Oslo



D. Stockholm


---
Answers for this quiz: Click here