Qatar isolated in Persian Gulf crisis
Q: The tiny Persian Gulf nation of Qatar has been isolated by fellow Arab states over its alleged support for terrorism. Where is the Persian Gulf?"
Circle the area on this map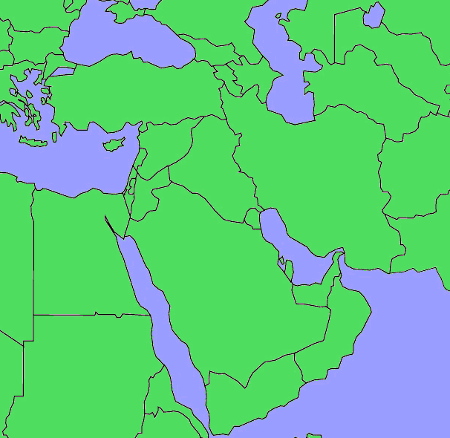 ---
Q: Shortly after the U.S. secretary of state urged Saudi Arabia, the United Arab Emirates (UAE), Egypt and Bahrain to ease their blockade of Qatar, his boss President Trump said the nations' action against Qatar was "hard but necessary" to fight terrorism. How many of the 9/11 terrorists came from Qatar?


A. 1



B. 2



C. 15



D. None


Q: The Islamic State claimed responsibility for terrorist attacks last week that killed at least 12 people in Tehran, the capital of which nation on the Persian Gulf?


A. Iran



B. Kuwait



C. Saudi Arabia



D. UAE


Q: Hackers planted a false story about Qatar seeking closer relations with Iran and Israel apparently helped trigger the Saudi-led blockade. Investigators believe the hackers came from which nation?


A. Iran



B. Israel



C. Russia



D. United States


Q: Turkey's parliament last week approved plans to deploy to Qatar. What nation already has about 11,000 soldiers in Qatar?


A. Iran



B. Israel



C. Saudi Arabia



D. United States


---
Answers for this quiz: Click here