Vatican City Radio delivers the news – in Latin
Q: In the latest initiative to broaden use of Latin, Vatican Radio is starting its first regular news bulletin in the language of Caesar and Cicero. The state of Vatican City is in Rome. Where is Rome on this map of Italy?
Circle the area on this map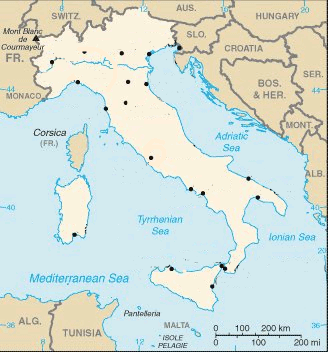 ---
Q: Latin is one of the official languages of the Vatican City State. What else is an official language?


A. French



B. Italian



C. Spanish



D. All of the above


Q: The Vatican City State, also called the Holy See, gained sovereignty in a 1929 treaty with the Italian government of Fascist leader Benito Mussolini. What is the size of Vatican City?


A. 110 square miles



B. 11 square miles



C. 1,110 acres



D. 110 acres


Q: What is the government of Vatican City State?


A. Absolute monarchy



B. Democracy



C. Dictatorship



D. Republic


Q: In 2012, Pope Benedict XVI started an academy to promote the use of Latin in the Church and beyond. He resigned in 2013 and was replaced by Pope Francis who had been archbishop of Buenos Aires in . . .


A. Argentina



B. Bavaria



C. Brazil



D. Spain


---
Answers for this quiz: Click here