Drought, climate change threaten Panama Canal
Q: The Panama Canal's watershed experienced its fifth driest year of the last seven decades in 2019, underscoring warnings that climate change poses a major challenge to the recently expanded waterway. Where is Panama?
Circle the area on this map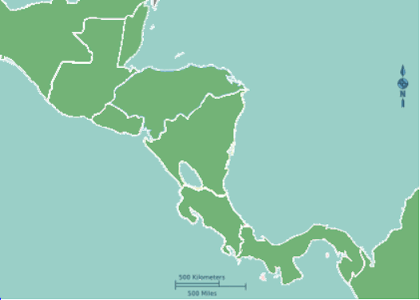 ---
Q: It takes tons of water to raise and lower ships going through the canal's locks as they travel between the Atlantic and Pacific Oceans. The Atlantic is at which end of the canal?


A. Northeast



B. Southeast



C. Southwest



D. Northwest


Q: Since Panama took over the canal on Dec. 1, 1999, the canal watershed has seen the driest three-year stretch on record as well as eight of the 10 biggest storms. The United States finished the canal in 1914. Which nation started the project?


A. Britain



B. France



C. Spain



D. United States


Q: Which nation was the first to consider building a canal across the isthmus of Panama?


A. Britain



B. France



C. Spain



D. United States


Q: The Suez Canal opened in 1869 and connected the Mediterranean to the . . .


A. Arabian Sea



B. Black Sea



C. Persian Gulf



D. Red Sea


---
Answers for this quiz: Click here