El Salvador authorizes use of lethal force against gangs
Q: El Salvador's president on Sunday authorized the use of "lethal force" by police and military against gang members to crack down on heightened violence amid the coronavirus pandemic. Where is the small Central American nation of El Salvador?
Circle the area on this map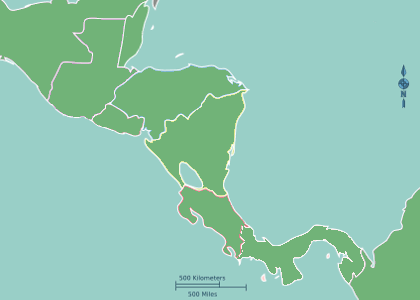 ---
Q: After more 50 gang murders in three days, President Nayib Bukele said he was ordering a 24-hour lockdown in prisons housing some 12,862 gang members. El Salvador's homicide rate is second only to its northeastern neighbor . . .


A. Belize



B. Guatemala



C. Honduras



D. Panama


Q: The violence of drug gangs in El Salvador and its Central American neighbors have led to a flood of ...


A. Asylum seekers



B. Food aid



C. Police help



D. Violence shelters


Q: El Salvador also has the world's second highest number of prisoners for every 100,000 people. Which nation has the world's highest percentage of its people in prison?


A. China



B. Honduras



C. Russia



D. United States


Q: In the nearly 50 years since President Richard Nixon declared a "war on drugs," the percentage of Americans in prison has tripled and drug dealers have corrupted much of Latin America. U.S. troops arrested the leader of which nation on drug charges?


A. El Salvador



B. Panama



C. Uruguay



D. Venezuela


---
Answers for this quiz: Click here