Top fugitive in Rwanda's genocide is arrested
Q: A man accused of funding the militias that massacred about 800,000 people in Rwanda was arrested Saturday in France after 26 years on the run. Where is the small nation of Rwanda, about 50 miles west of Africa's large Lake Victoria?
Circle the area on this map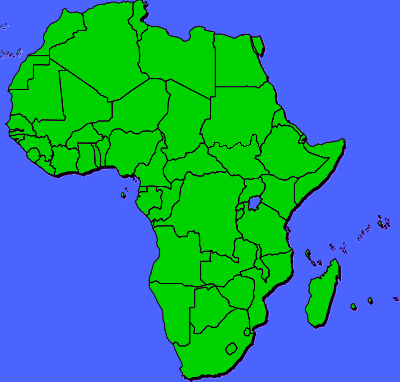 ---
Q: Felicien Kabuga, 84, is charged with genocide for arming ethnic Hutu militia members with machetes used to kill members of the rival Tutsi ethnic minority over a period 100 days in 1994. Kabuga had been living under an assumed name in a suburb of France's capital . . .


A. Brussels



B. Geneva



C. Paris



D. The Hague


Q: Kabuga will be turned over for trial in The Hague. The Hague is in which nation?


A. Belgium



B. Netherlands



C. Rwanda



D. Switzerland


Q: The bodies of some 1994 genocide victims were carried by the Kagera River into Lake Victoria which feeds the Nile River. The ultimate source of the Nile is a still undetermined tributary of the Kagera either in Rwanda or its southern neighbor . . .


A. Burundi



B. DR Congo



C. Tanzania



D. Uganda


Q: Violence between ethnic groups is not uncommon in African nations which were once European colonies. At least 20 civilians were killed Sunday by machete-wielding ethnic militiamen in which neighbor of Rwanda?


A. Burundi



B. DR Congo



C. Tanzania



D. Uganda


---
Answers for this quiz: Click here