Thailand denies monkeys are abused to harvest coconuts
Q: Facing animal rights activists' calls for a boycott, Thailand officials denied that the country's coconut-picking monkeys, long a popular tourist attraction, are being abused. Where is Thailand on the Indochinese Peninsula?
Circle the area on this map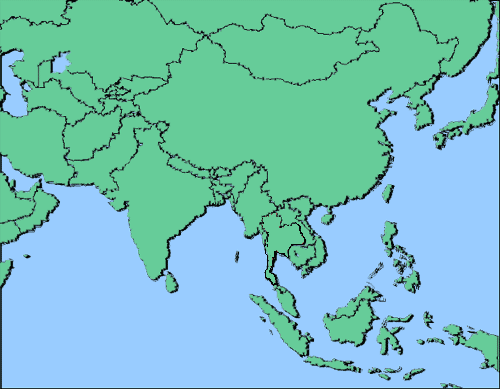 ---
Q: A campaign by People for the Ethical Treatment of Animals (PETA) in Britain has been hurting sales of Thai coconut milk and other products in Europe. Thailand and the Indochinese Peninsula are in what region of the world?


A. Northeast Asia



B. Northwest Asia



C. Southeast Asia



D. Southwest Asia


Q: Pickers using cutters on long poles collect most of the coconuts in Thailand, while trained macaque monkeys are used to harvest the tallest trees. Which Southeast Asian nation – the region's biggest – is the world's top producer of coconuts?


A. Indonesia



B. Malaysia



C. Philippines



D. Thailand


Q: Southeast Asia lies between which two oceans?


A. Atlantic and Pacific



B. Pacific and Indian



C. Indian and Atlantic



D. Atlantic and Southern


Q: All the countries of Southeast Asia were once colonized by Europeans except for which nation?


A. Indonesia



B. Malaysia



C. Philippines



D. Thailand


---
Answers for this quiz: Click here