Common Core State Standard
L.CCS.1/2/3/4 Grades 6-12: Video of a current news event is presented for discussion to encourage student participation, but also inspire the use of evidence to support logical claims using the main ideas of the video. Students must analyze background information provided about a current event, draw out the main ideas and key details, and review different opinions on the issue. Then, students should present their own claims using facts and analysis for support.
06/15/2009
Iran erupts over election results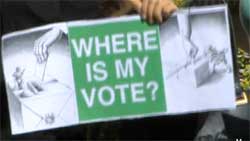 Strong video cobbled together early in the first week of street demonstrations against election results in Iran. Clint Mansell's stirring Lux Aeterna from the album "Requiem for a Dream" provides the background music.
Notice anything odd about the video? Why are most of the protest signs (see the image at right) as well as the police signs displayed in English rather than Persian? Slate has an explanation.
■Class discussion: Would you label this video as propaganda or information? Why? What makes it so effective and riveting?