INVEST IN YOUR COMMUNITY BY SUPPORTING EDUCATION
ADOPT-A-CLASS
Local support of the Adopt-a-Class program helps to supply more than 15,000 e-editions each week to schools all across the Western Slope. Adopt-a-Class is an educational program that offers materials and replica e-editions to students at no cost to schools through partnerships with community sponsors and The Daily Sentinel. The program promotes learning and also helps develop business and school relationships. Sponsors receive public recognition in an advertisement that runs in The Daily Sentinel each month during the school year. More sponsors are needed, as more teachers want the replica e-edition.
Sponsorship Levels
Each Adopt-a-Class sponsorship provides replica e-editions and educational materials to classrooms throughout the school year.
Silver Level Sponsorship - $200
3 Classrooms for one year
Gold Level Sponsorship - $350
6 Classrooms for one year
Platinum Level Sponsorship - $500
9 Classrooms for one year
Sponsors of Distinction - $750+
12 Classrooms for one year
Vacation Donation
Support students while you're enjoying your vacation. Before you go out of town, call 242-1919 and request 'vacation donation' when you stop your paper. We'll credit the papers to our Newspapers in Education program. Your donation will help our NIE program to provide local teachers with replica e-editions to strengthen their classroom efforts.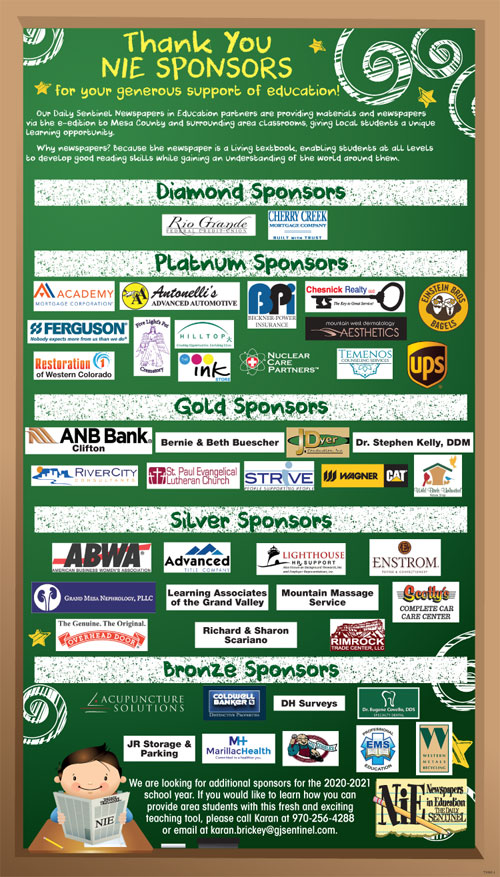 Click here to view our Sponsors